How to Order
Online Ordering information:
Last updated: March 01, 2015
You can order using the online Shopping Cart after you register, log in, and see the prices.
You can also order by e-mail. Please note that we ship our amulets worldwide. We have customers all over the world, in North America, South America, Europe, Asia, and Africa. So feel free to contact us for any question.
Step-By-Step Guide : How to Order

---
STEP: 1
You must have OldAmulet.com's member account before shopping. If you not have now please
Register New Account
(it's Free). If you existing meber please Login. (Price of product will show for member was login.)

---
STEP: 2
You can browse my item on OldAmulet.com many way. and if you can't find your item as you looking for you can use seach box for help. OldAmulet.com Serch box also have feature search sugguestion for help you. (Wait about 3 sec. for search sugguestion result.)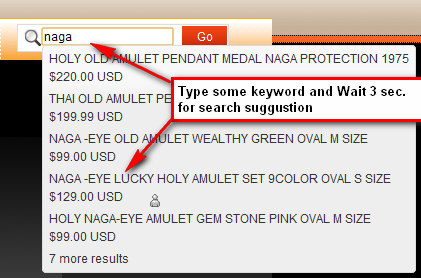 ---
STEP: 3
When you was found item as your need. Please check status of product and click "Add to Cart"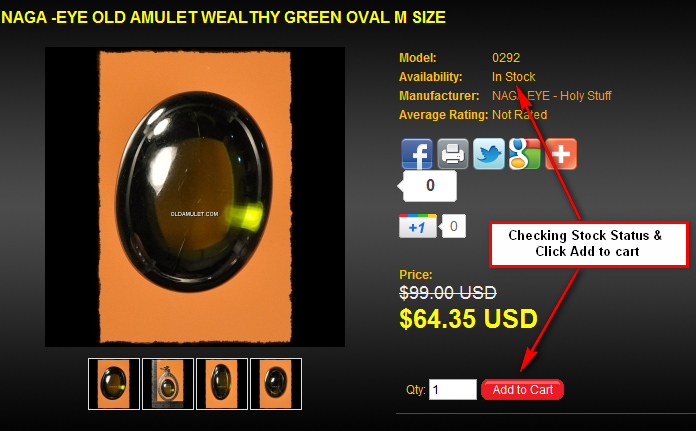 ---
STEP: 4
Your select item will show in Shopping cart on Top-Right of OldAmulet.com Website. You can continue shopping until you enought.


---
STEP: 5 In your Shopping Cart detail. After you was finished. please click "Checkout" for Checkout your items.



---
6. Review your Shipping address. And You can change shipping address by click "Change Address"



6.1. After that, Please Select your Shipping Method. Each Shipping Method will have different cost. and Click "Continue" to Next Step.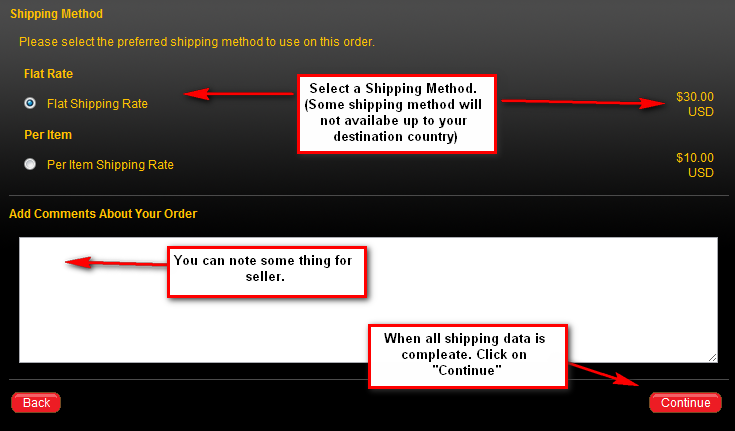 ---
STEP: 7
On Payment information page. In this step if you have Oldamulet.com Discount coupon you can apply by fill coupon code in "Coupon" box and Click "Apply"



If You in put correct Coupon code you will see "Success" Message



---
STEP: 8
Select Payment Method. Some payment method will availabel up to your shipping country. such as if you are in Thailand you can use Money Bank Transfer. and then please check on "Term & Condition" agreement and click "Continue" to Next step.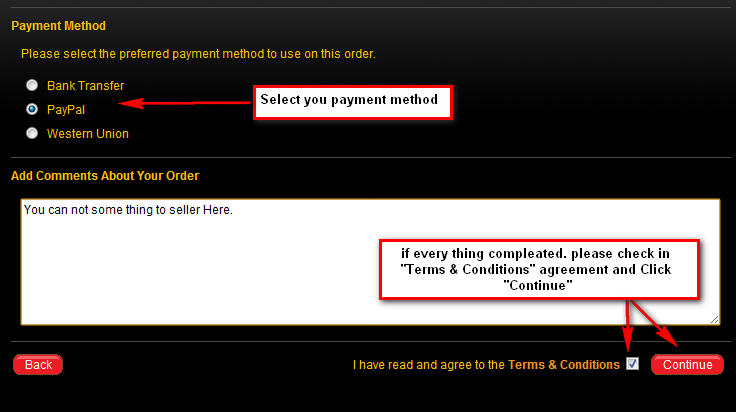 ---
STEP: 9
Finaly Before Finish Checkout. Please review your order information. if everything OK just click "Confirm Order" for place your order now.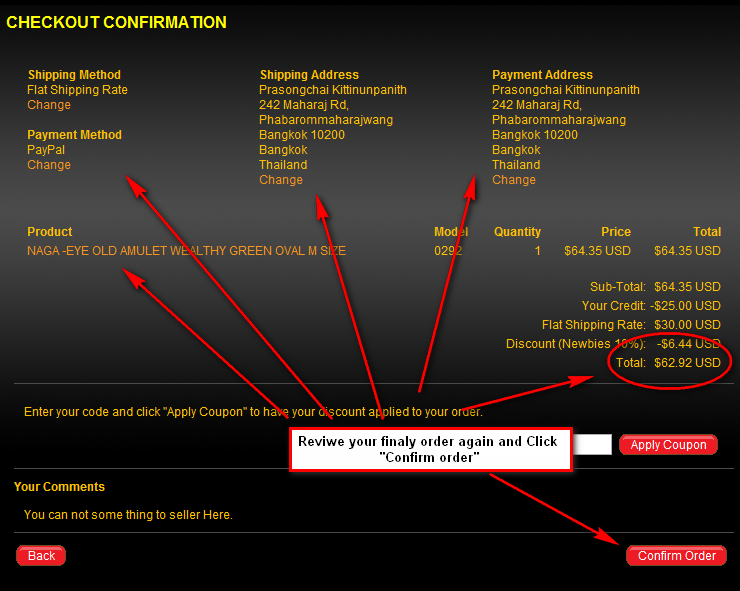 ---
STEP: 10
When your finish on Confirm order page. System will send you to Paypal Site for compleate your payment. Your payment transection will be safe here. (Please see SSL logo for make sure)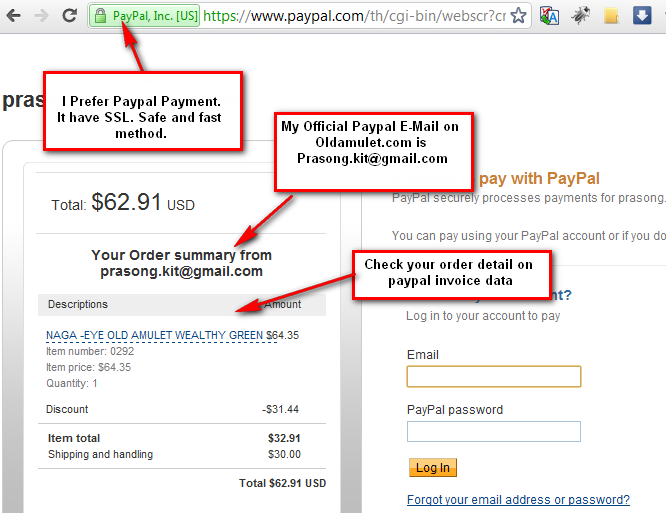 ---
STEP: 11
After your payment compleate you can check you order status on your member account page.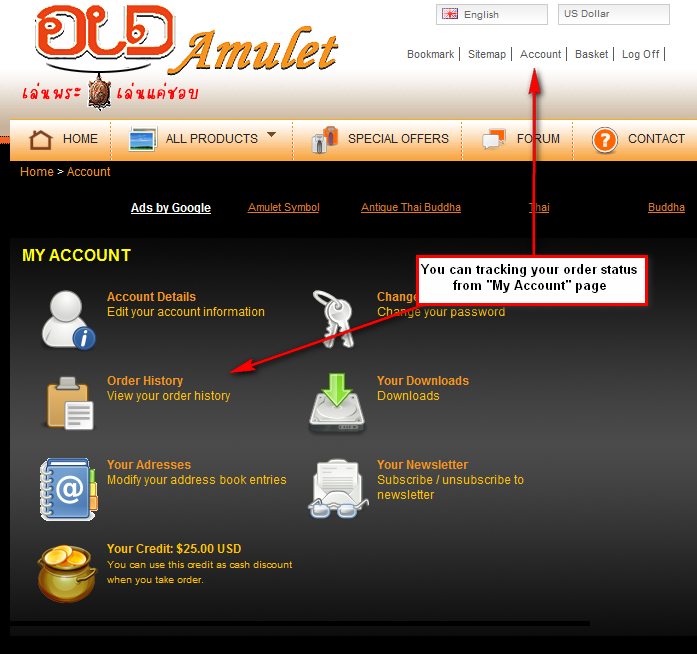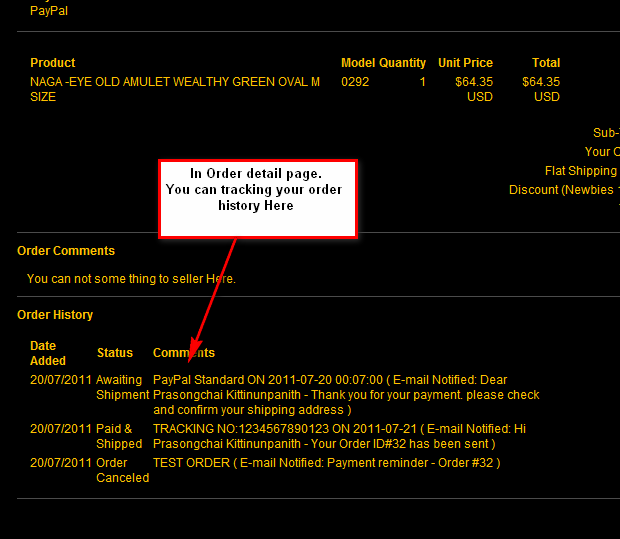 ---
End

Have fun to shopping at OldAmulet.com. Thank you.